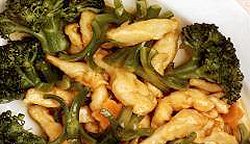 KISS allowance
per serving
1 protein
= chicken
1 fat
= oil
1 daily indulgence
= tomato sauce &
cornflour;

recipes
Ginger Chicken
From the book The Kiwi KISS Diet page 80
This recipe still remains one of my favourites and I encourage you to use fresh grated root ginger rather than the commercial ginger in a jar. The aroma is sensational and the taste is superb.
For 1 serving
120 grams chicken breast
1 teaspoon oil
1 teaspoon grated fresh root ginger
1 clove garlic, crushed
1 cup broccoli
2 spring onions, sliced
The Sauce
1 tablespoon soy sauce
1 tablespoon tomato sauce
4 tablespoons water
1 teaspoon cornflour (or cornstarch)
Method
Remove skin from chicken and cut into chunks.
Heat oil in a non-stick pan and sauté chicken until lightly browned and cooked.
Add garlic, ginger and broccoli and stir fry for about 5 minutes.
Add spring onions.
Mix together the soy sauce, tomato sauce, water and cornflour. Add to the pan and stir until sauce thickens.