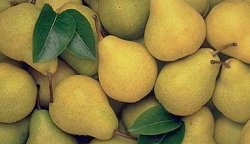 KISS allowance
per serving
1 fruit
= pears
¼ daily indulgence
= sugar & cornflour
1 weekly indulgence
= wine and cream

recipes
Poached Pears in a Mulled Wine Sauce
From the book The Kiwi KISS Diet Cookbook page 42
Spiced hot pears poached in a red wine sauce and topped with whipped cream is the most perfect dessert for a cold winter's night.
For 4 servings
4 pears, peeled, cored and cut into quarters
1 cup red wine
½ cup water
4 teaspoons sugar
1 teaspoon grated lemon rind
1 teaspoon cinnamon
½ teaspoon ground cloves
2 teaspoons cornflour mixed with 4 tablespoons water
6 tablespoons whipped cream
pinch cinnamon for topping

Method
In a saucepan combine the pear quarters, red wine, water, sugar, lemon rind, cinnamon and ground cloves. Bring to the boil and simmer gently for about 5-10 minutes or until pears are tender.
Combine the cornflour and water together and add to the pan. Stir until the mulled wine sauce has thickened.
Spoon pears into serving dishes, spoon over the sauce and top with the whipped cream. Lightly dust with cinnamon and serve.