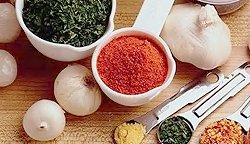 KISS allowance
per serving
1 protein
= chicken & cheese
2 carbohydrates
= flour
½ fat
= oil
1 1/8th milk/yoghurt
= yoghurt
¼ fruit
= banana
½ daily indulgence
= chutney

recipes
Tandoori Chicken Pizza
From the book The Kiwi KISS Workout page 70
A pizza with all the trimmings - spicy tandoori, apricot chutney, creamy yoghurt, cheese and banana - wait until you try it - superb.
For 4 servings
The Pizza Base
2 cups flour
1¼ teaspoons cream of tartar
¼ teaspoon baking soda
¾ - 1 cup Trim milk
1 teaspoon vinegar
Topping
360 grams raw chicken breast, thinly sliced
¼ cup plain yoghurt
2 tablespoons tandoori paste
2 teaspoons oil
1 red onion, thinly sliced
½ cup plain yoghurt
2 tablespoons apricot chutney
1 zucchini, cut into fine strips (use a potato peeler)
1 red pepper, sliced
1 banana, peeled and sliced
50 grams tasty cheddar cheese, grated

Method
Mix together the chicken, yoghurt and tandoori paste. Leave for about 30 min.
To make the base: Sift the dry ingredients into a bowl. Mix together the milk and vinegar and cut into the ingredients to form a soft dough. Roll out on a lightly floured board and shape into a large circle. Line an oven tray with baking paper and place the base on it.
Pre-heat the oven the 200°C.
Heat the oil in a non-stick pan and sauté the marinated chicken and onion until chicken is cooked and tender.
Mix together the second measure of yoghurt and chutney and spread over the pizza base. Top with the cooked onion and chicken, zucchini, red pepper, banana and finish with the grated cheese.
Bake at 200°C for about 30 minutes or until the cheese is golden.