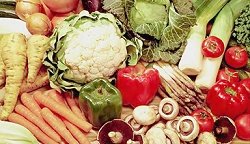 KISS allowance
per serving
1 protein
= feta & cheddar cheese
1 carbohydrate bonus
= kumara
½ fat
= sour cream
½ daily indulgence
= cornflour

recipes
Layered Vegetable Bake with a Sour Cream Sauce
From the book Kiwi KISS in the Kitchen page 88
Try this recipe as a lunch served with tomato salad and crusty bread from your Carbohydrate allowance.
For 2 servings
240 grams kumara, peeled and sliced
¼ buttercup, skinned and cut into cubes
4 leaves silverbeet, washed and sliced
2 courgettes, grated
1 large onion, sliced
75 grams feta cheese, cut into small cubes
½ cup water
1 teaspoons herb or chicken stock
2 teaspoons cornflour
1 tablespoon sour cream
ground black pepper
25 grams grated tasty cheddar cheese
Method
Pre-heat oven to 210°C.
Boil or steam the kumara and buttercup until almost tender. Remove from pot and put to one side.
Place the silverbeet and courgettes in the pot and cook a further 5 minutes.
Heat a little water in a non-stick pan and sauté the onion until tender. Remove from the heat and stir in the feta cheese.
Lightly grease an oven-proof dish and layer the buttercup, feta and onion mixture, silverbeet and courgettes and finish with the kumara slices.
Mix together the water, stock, cornflour, sour cream, and pepper. Pour over the vegetable layers.
Sprinkle the top with the grated cheddar cheese.
Bake at 210° C for 30 minutes.